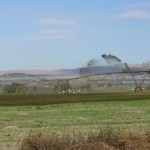 Oregon has a problem with dairy cow manure, it's sprayed on fields, leaks from piles, and is dumped into rivers. But on paper, this manure is covered by a Clean Water Act discharge permit so strict that apparently almost nothing is ever discharged to Oregon's waterways at least according to state agencies. Based on this fiction they have written, the Oregon agencies recently created another fiction: the permit needs no improvement.
For this reason it's no surprise that the Oregon Departments of Environmental Quality (DEQ) and Agriculture (ODA) proposed a new dairy permit that looks just like the last wholly ineffective permit. They seemed to have overlooked one important point: EPA had issued new federal rules on dairy permits. These new rules require a state to give the public the opportunity to comment on farm-level management plans for dairy cow manure. In contrast, Oregon proposed to "grandfather" all existing farm plans and keep them from public review.
In addition to pointing out this glaring inconsistency with the new federal requirements, NWEA's comments urged the Oregon agencies to assume that dairies do discharge particularly where dairies have a history of discharges, are upstream of shellfish areas that have been closed due to bacterial pollution, and where manure is applied to land with drainage tiles. NWEA's comments focus on the Tillamook Bay where there is ample evidence that Oregon agencies have consistently failed to keep manure out of Oregon's waters.
NWEA also urged the Oregon agencies to come into the modern age B to require use of photographic monitoring of such permit conditions as riparian buffers and tank volumes, to address the rampant use of synthetic hormones and other pharmaceuticals, and to come to grips with the reality that dairy wastes are in Oregon's waters.