Federal Appeals Court in New York to Hear Oral Argument in Chanllenge to Ballast Water Discharge Permit
On Friday, January 30, the United States Court of Appeals for the Second Circuit, located in New York, will hear oral argument in a challenge to the legality of the U.S. Environmental Protection Agency's (EPA) Vessel General Permit (VGP). The permit requires treatment of ballast water discharges that contain invasive species. Once discharged, populations of invasive species— such as the zebra mussel— can explode, causing severe environmental and economic impacts.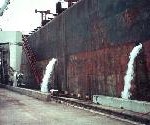 In its briefs to the court, the lead plaintiff, Portland (OR)-based Northwest Environmental Advocates (NWEA), explained that EPA chose to require a level of ballast water treatment that will still allow many new invasive species in U.S. waters. NWEA argued that EPA failed to consider onshore treatment facilities that are now sophisticated enough to treat raw sewage and turn it into drinking water in so-called "toilet-to-tap" applications. In addition, NWEA said that manufacturers of shipboard treatment equipment had demonstrated their ability to far exceed the treatment levels that EPA chose. Finally, NWEA pointed to EPA's having ignored the recommendations of two science panels that urged EPA to use multiple approaches to thwart invasive species.
The permit stems from a petition filed by NWEA with EPA in 1999. A court subsequently found EPA had violated the Clean Water Act by exempting ship discharges from the requirement to have permits.
For more on this issue click here.