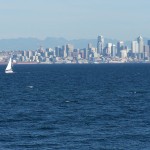 Calling for federal action, NWEA filed a lawsuit today against two federal agencies for their failure to force Washington State to control polluted runoff in the state's coastal watersheds, including Puget Sound. A similar lawsuit in Oregon resulted in cuts to that state's federal funding earlier this year.
The lawsuit asks the federal district court to force two federal agencies—the U.S. Environmental Protection Agency (EPA) and the National Oceanic and Atmospheric Administration (NOAA)—to impose Congressionally-mandated funding cuts on the State of Washington for failing to comply with a law that requires the state to protect coastal water quality.
"Congress was very clear that the federal agencies are required to use fear of funding losses to kick coastal states into high gear on protecting water quality," said Nina Bell, Executive Director of NWEA. "But, for 18 years, the federal agencies have blatantly ignored the law and done nothing to protect the coastal water quality that Washington citizens desire and Washington species require. The Department of Ecology's failure to control polluted runoff from farms, urban areas, and logging is an attack on salmon, orca whales, shellfish beds, and recreation."
NWEA filed a similar lawsuit, focused on inadequate logging practices in Oregon, under the federal Coastal Zone Act Reauthorization Amendments ("CZARA") in 2009. After the case was settled in 2010, Oregon refused to carry out the agreement. By 2013, the federal agencies had proposed to disapprove Oregon's program, in January 2015 they had disapproved it, and in March 2016 they cut Oregon's annual funding by $1.2 million. Oregon was the first state in the nation to suffer disapproval of its coastal nonpoint program and to lose federal funds. The federal law requires EPA and NOAA to withhold at least one third of federal grant funds from states that have failed to obtain approval of their coastal nonpoint source runoff programs, starting in 1996. The Washington Department of Ecology receives an average of $3 million each year from EPA to support its nonpoint source program and $2 million annually for its coastal zone management program. Both grant programs are subject to the funding cuts.
---
Documents for Download