OREGON COAST CZARA
WATERSHEDS IN TROUBLE
---
Poor Logging Practices Cause Federal Agencies to Disapprove Oregon Coastal Nonpoint Pollution Program. 
(January 30, 2015)
Oregon's coastal nonpoint pollution program was disapproved by federal agencies today based on the state's poor logging practices, as a result of a 2009 lawsuit brought by Northwest Environmental Advocates. In a decision that federal law required the agencies to make nearly two decades ago, EPA and NOAA slammed the state's failure to protect water quality and fish from logging practices in the face of studies—many conducted by Oregon itself—that have consistently demonstrated that logging violates water quality standards and fails to protect fish and wildlife.
Read the full text of a news release.
The 24-page decision document is available here.
---
Summary of EPA/NOAA January 30, 2015 Disapproval of Oregon's Coastal Nonpoint Pollution Control Program
The EPA/NOAA disapproval made findings on four logging issues: (1) riparian buffers on small and medium fish and non-fish bearing streams; (2) legacy logging roads; (3) high-risk landslides; and (4) herbicide applications to non-fish bearing streams. (Note that so-called Anon-fish-bearing@ streams support fish other than salmon and steelhead, frogs, salamanders, and clean water for ecosystem health and drinking water. These streams comprise at least 70 percent of the stream network in coastal watersheds and are currently unprotected, allowing for vast areas of clear-cutting.) Some of the findings include:
Protection of Riparian Areas
Oregon has no riparian protection for small non-fish-bearing streams.
A significant body of scienceCincluding three Oregon studiesCdemonstrates that Oregon=s riparian protection for small and medium fish-bearing and non-fish-bearing streams is inadequate to meet water quality standards for temperature.
Non-fish-bearing streams should be treated the same as fish-bearing streams for the purpose of establishing the size of riparian buffers.
Substantial adverse effects are associated with riparian buffers of 65-98 feet, with minimal adverse effects associated with buffers of 150 feet.
Impact of Forestry Roads
So-called legacy roads (built before 1971) are located and built in ways that have on-going ecological consequences, primarily in supplying sediment to streams and triggering landslides.
Oregon has no inventory of legacy roads, no requirement to ensure such roads have no water quality impact, nor a monitoring system to track voluntary efforts to fix them.
Protection of Landslide-Prone Areas
Studies show significant increases in landslides and their severity after clear-cuts.
Riparian buffers on unstable slopes would reduce landslide density and sediment volume.
Oregon has failed to identify high-risk landslide areas, to adopt restrictions on logging and logging roads to reduce landslides, and to monitor the impacts of landslides after they occur.
Ensure Adequate Stream Buffers for Application of Herbicides, Particularly on Non-fish-bearing (Type N) Streams
Oregon has no spray buffers for aerial application of herbicides on small non-fish-bearing streams.
Herbicides reduce growth in the aquatic food chain that supports fish and wildlife at levels well below those levels believed to affect human health.
---
Background
The most persistent source of water pollution in this country comes from polluted runoff.  These are called nonpoint sources – the logging, farming, and grazing that doesn't require a Clean Water Act permit to pollute.  Congress hoped the states would control these sources but, instead, they have done a very poor job, including Oregon.  Because of the importance of coastal watersheds and the problems of polluted runoff, Congress passed the Coastal Zone Act Reauthorization Amendments (CZARA) in 1990, a law that prohibits states that don't have enforceable controls on nonpoint sources from receiving federal grant funds.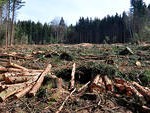 In 2009, NWEA sued the two federal agencies that administer the CZARA program.  The 2010 settlement of that case called for the Oregon Department of Environmental Quality (DEQ) to demonstrate that it can regulate logging directly, without regard to the inadequate practices of the Oregon Department of Forestry.  However, in July 2013, Oregon DEQ explicitly reneged on its commitments claiming that Oregon's land use laws should outweigh its failure to protect water quality from logging pollution. Under the terms of the NWEA settlement, the Environmental Protection Agency (EPA) and National Oceanic and Atmospheric Administration (NOAA) were required to issue a proposed approval or disapproval of Oregon's coastal nonpoint program by November 15, 2013 (changed to December 20).  EPA/NOAA did issue a proposed disapproval on December 20, 2013 and began a 90 day public comment period.  Final action was slated for May, 2014 and then delayed until January 2015.